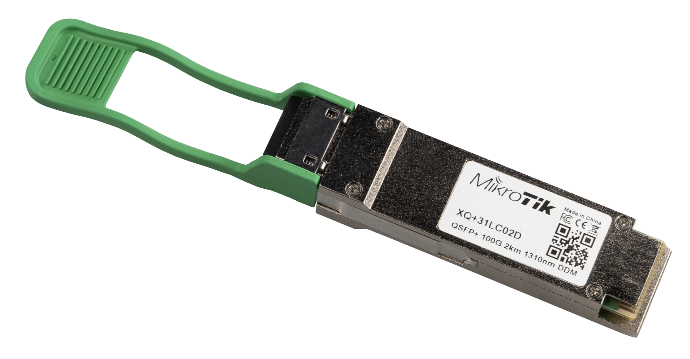 MikroTik XQ+31LC02D QSFP28 module 40/100G SM 2km 1310nm CWDM4
---

MikroTik provides hardware and software for Internet connectivity. Our experience in using industry standard PC hardware and complete routing systems allowed us in 1997 to create the RouterOS software system that provides extensive stability, controls, and flexibility for all kinds of data interfaces and routing.
---
Share this product:
MikroTik XQ+31LC02D QSFP28 module 40/100G SM 2km
The MikroTik 100 Gigabit product line keeps growing! Add this QSFP module for distances up to 2km to your CCR2216 or CRS504 setups and enjoy real speed and ultimate reliability. This optical module offers four independent full-duplex channels with up to 25 Gbps per channel bandwidth and an aggregate bandwidth of 100 Gbps. The module has built-in digital diagnostic functions, including optical power monitoring, and will perform well in environments up to 70° C. It has been designed to meet the harshest conditions, including temperature, humidity, and EMI interference, so we definitely recommend this as a reliable solution for all your 100 Gbps QSFP28 devices.

Product specifications:
Connector: LC
Data Rate: 40Gbps / 100Gbps
Tested ambient temperature: 0°C .. +70°C
Distance: 2km
Format QSFP+ / QSFP28
Mode: Single Mode
Wavelenght: 1271nm, 1291nm, 1311nm, 1331nm
Max Power Consumption: 3.5W