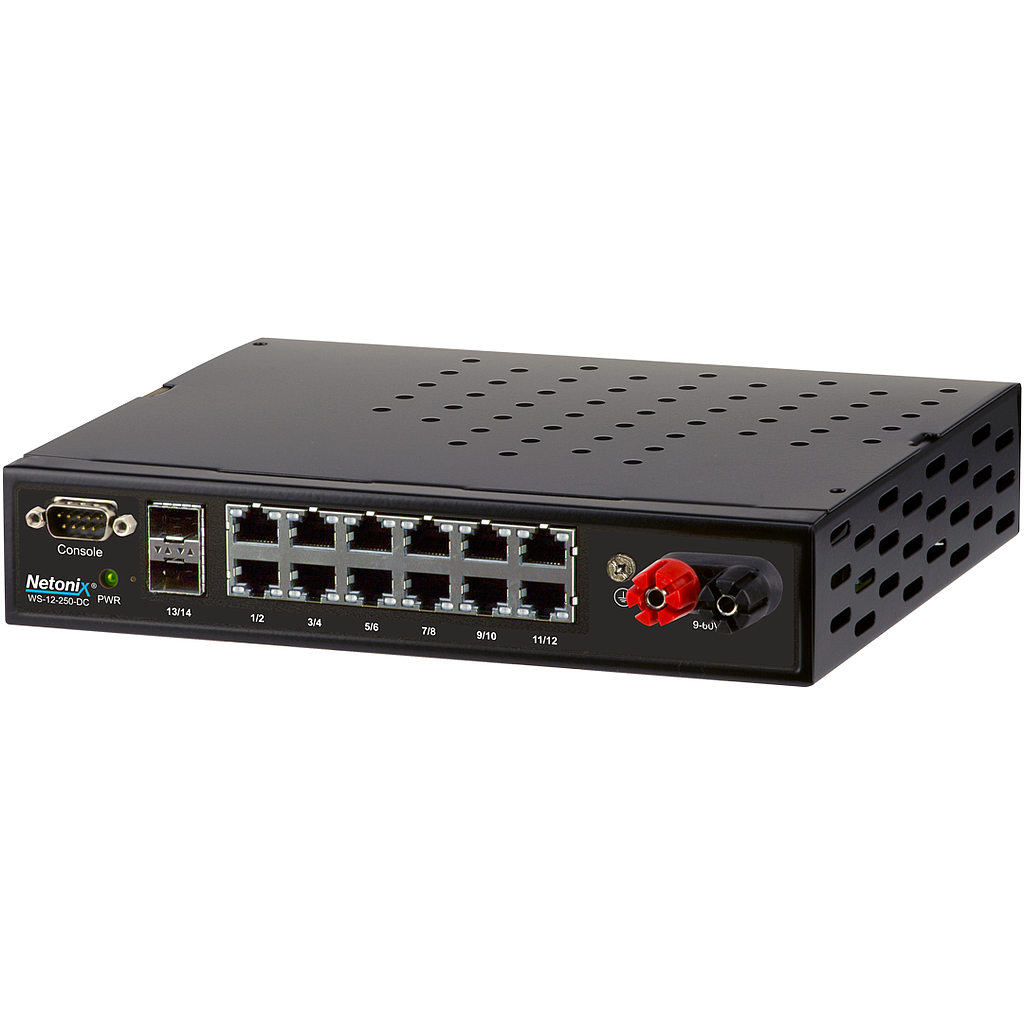 Netonix WS-12-250-DC 12-Port Managed POE Switch DC 250W
---
---
Share this product:
Netonix WS-12-250-DC 12-Port Managed POE Switch DC 250W
The Netonix® WISP Switch™ model WS-12-250-DC is designed specifically for the WISP industry with a rugged chassis and extended operating temperature range. It features a simple yet powerful user interface providing the software features WISPs need in a switch.
Managed Passive PoE Switch
9-60 VDC variable input range
(12) Gbps PoE Ports
(2) SFP Uplink Ports
Manufactured and Assembled in North America
Monitor DC voltage and current into the switch from your batteries. Monitors the DC power supply temperature with auto and programmable thermal shutdown.
WARNING: These switches are not designed to operate on a -48V site, using -48VDC will damage the switch as it does not have isolated input output power. 
Product Specifications:
• Manufactured and Assembled: North America
• Standard 19" rack mount / Desktop / Wall mount: Yes
• Dimensions: 223mm x 181mm x 44mm
• Weight: 2 kg
• Power Input: 9-60 VDC
• Chassis Earth Ground Lug: YES
• Max. Power Consumption: N/A
• Intelligent Forced Air Cooling With Fan RPM Monitoring: YES
• Switch Core and PHYs: Vitesse
• Processor: MIPS 24K 416 MHz
• System Memory: 128 MB
• Flash Storage: 16 MB
• Total Non-Blocking Line Rate: 14 Gbps
• Certifications: CE, FCC, IC
• Operating Temperature: -25 to 55°C (-13 to 131° F)
• Operating Humidity: 5 to 95% Non-Condensing
• Console Port: RS-232
• Ethernet Ports: (12) 10/100/1000 Ethernet Ports
  (2) SFP Ports
• Passive PoE Configured Per Port via UI:
      24V 1A pins 4,5(+) 7,8(-)
      48V 1A pins 4,5(+) 7,8(-)
      24VH 2A pins 1,2,4,5(+) 3,6,7,8(-)
      48VH 2A pins 1,2,4,5(+) 3,6,7,8(-)
• PoE Out Voltage Range: 48-50 VDC / 22-24 VDC
• Passive PoE Current Sensors Per Port: Yes
• ESD Rating: 24 kV Air / 24 kV Contact
Product Includes:
• (1) Netonix WS-12-250-DC Switch
• (1) Standard Desktop / Wall Mount
• (1) User Manual