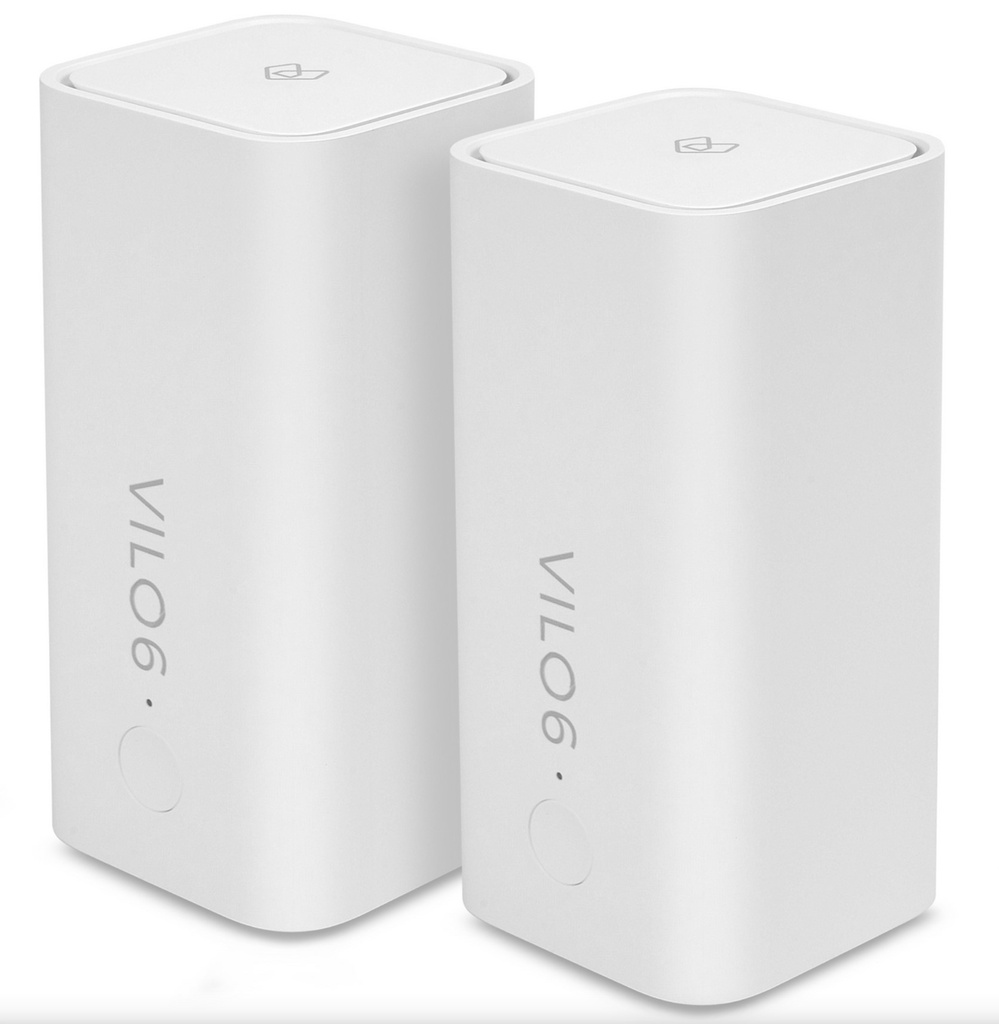 Vilo VFLWF02-2 Mesh Wi-Fi 3 Port Gigabit Ethernet Router Wifi6 - 2 Pack
---
Every startup has an origin story. Ours started years ago when the Vilo cofounders were working at another tech startup making smart home products. Through customer feedback we sensed the need for an easy to use and affordable home mesh Wi-Fi system, but it wasn't until we left that company that we pursued this idea in earnest to bring one to the market. The timing was serendipitous. We launched Vilo in the summer of 2021, amidst the ebbs and flows of a global pandemic that found millions of people ever more dependent on their home Wi-Fi. The ease of use and affordable pricing won a steady stream of positive media reviews as well as the hearts and minds of many consumers. Meanwhile, a new window of opportunity opened to us.
---
Share this product:
Vilo VFLWF02-2 Mesh Wi-Fi 3 Port Gigabit Ethernet Router Wifi6 - 2 Pack
With the power of Wi-Fi 6, Vilo 6 can reach ultra fast speeds all while handling more than 100 devices from every corner of your home.
Coverage up to 2,000 sq ft per unit, 4,000 sq ft per 2-pack

 Connects up to 128 devices per unit

 Max 600 Mbps on 2.4 GHz, 1200 Mbps on 5 GHz

 WPA3 Security

 Channel and Channel Width Selection

 3 Gigabit Ethernet Ports per unit

 IPv6, and Smart Queue Management
What is Wi-Fi 6?
Wi-Fi 6 is the next generation of Wi-Fi designed for the latest technology and smart homes of tomorrow. Future proof your home with Vilo 6 today and enjoy fast speeds, whole-home coverage, and smooth connections to all of your devices
Appearance
Dimensions 69mm x 69mm x 151mm

Color White

Weight 400G per unit

Finish Matte
Hardware 
Wi-Fi Standard 802.11a/b/g/n/ac/ax

Processor MT7621AT, MIPS, 880 MHz

Memory 256 MB RAM, 16 MB NOR flash

Ports 3 Gigabit Ethernet Ports

Antennas 4 Internal PCB Antennas

Max Gain Average 5 dBi horizontally

Power 12V/1A, 12W Power Adapter
Wireless 
Frequency Simultaneous dual band (2.4 GHz/5 GHz)

Speed Up to 600 Mbps on 2.4 GHz; 1200 Mbps on 5 GHz

Coverage Up to 2,000 sq. ft. per unit (or up to 4,000 sq. ft. with a 2-pack)

Connected Devices Can connected to up to 128 devices per 1-pack, 200 for 2-packs.
Software 
Advanced Technology MU-MIMO, Beamforming, Proactive Band Steering

IPv6 Compatible with IPv4/IPv6 and suppports native

SQM Algorithm Powered by the CAKE algorithm

Security Protocol WPA-PSK/WPA2-PSK/WPA+WPA2/WPA3-SAE+WPA2-PSK/ WPA3-SAE

System Requirements iOS 9.0 or later, Android 8.0 or later
Packaging
What's in The Box Vilo 6 + Power Adapter (2-Pack comes with 2 Vilo 6s, 2 Power Adapters, and 1 Ethernet Cable)