Tycon Power UPS-DC1248-9 UPS Pro, 30W 100VA DieCast Enclosure, 12V 9Ah Batt, 48V POE, Solar Ready. 24hr backup @ 3.5W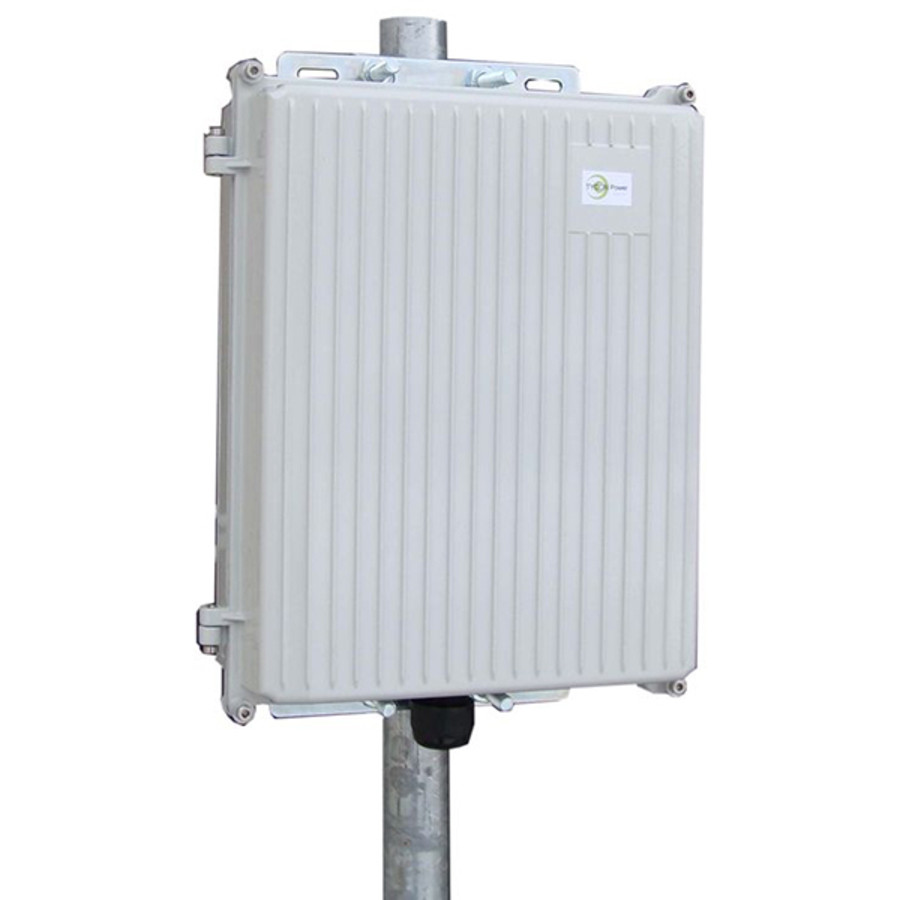 Tycon Power UPS-DC1248-9 UPS Pro, 30W 100VA DieCast Enclosure, 12V 9Ah Batt, 48V POE, Solar Ready. 24hr backup @ 3.5W
---

Tycon Power Systems designs and manufactures turnkey remote power systems utilizing solar and wind power and accessories including a variety of unique PoE and power conversion products. Tycon Power® products include; industrial strength outdoor PoE switches, midspan power inserters, PoE surge protection, DC to DC converters, and a large selection of accessories.
---
Share this product:
Tycon Power Systems UPS-DC1248-9 UPS Pro 12V 9Ah Batt 48V PoE
The UPS Pro™ series outdoor enclosures are designed for applications that require a backup power source in order to maintain uninterrupted service to customers. The enclosure is powered over a CAT5 network cable via Power Over Ethernet (POE) using a POE Supply/Inserter (included). Features include an advanced battery charge controller to protect against over-charging or over-discharging of the valve regulated sealed lead acid AGM batteries. Enclosures have multiple ports for CAT5 cable, antenna cables/connectors or other cabling. They are vented to prevent residual buildup of hydrogen gas.
Customer electronics operate from battery power so they are isolated from damaging power line surges. The batteries are continuously charged via the POE input and/or solar power. The controller has a secondary wire terminal output which equals the battery voltage for connecting multiple pieces of equipment to the battery power, in addition to the POE output.
There is a generous amount of space reserved inside the enclosures for customer electronics such as controllers, wireless AP or CPE cards, sensors, inverters, etc. Most models are equipped with a Solar Ready controller so they can also be powered using solar panels in addition to or instead of the POE power supply.
Multiple configurations are available for 12V or 24V systems with various battery storage capacities and POE output voltages.
A typical 250mW wireless access point with average power consumption of 3.5W will run 26 hours on a 9AH battery at room temperature or 17 hours at -20 deg C.
Features
Weatherproof, UV resistant, outdoor enclosures
Powered over CAT5 cable using POE and/or Solar
Generous interior space for customer electronics
Wall or Pole Mounting
Isolates Customer Equipment from Power Line Surges
High Quality AGM VR Sealed Lead Acid Batteries
Advanced battery charge controller protects against overcharge and over discharge
Applications
Wireless Base Stations and Clients
Surveillance Cameras
Wireless Bridge and Repeaters
Remote Sensors
Mission critical outdoor power
Backup Power Systems