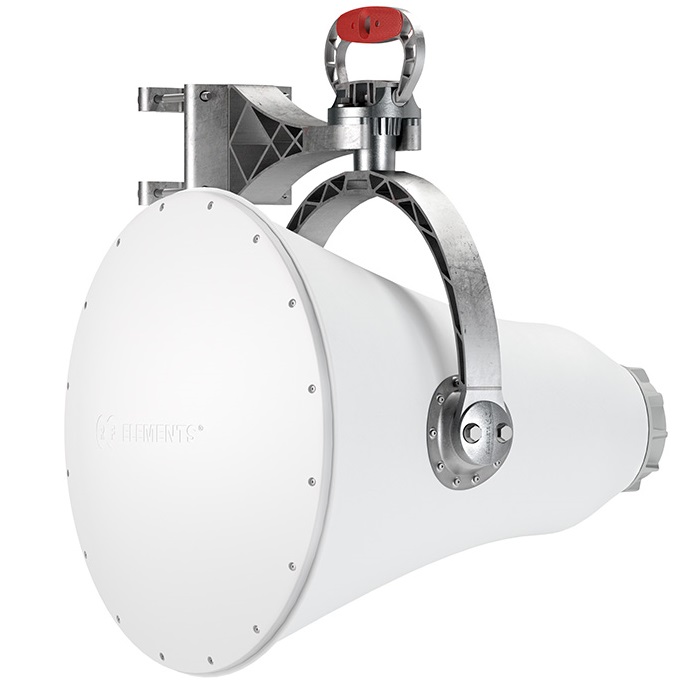 RF Elements UH-TP-5-24 5GHz Ultra Horn TwistPort 24dBi
---
---
Share this product:
RF Elements UH-TP-5-24 5GHz Ultra Horn TwistPort 24dBi
RF Elements UH-TP-5-24 UltraHorn TP antennas are highly directional scalar horn antennas. They offer all the benefits of scalar horns: ultra noise rejection, lossless connection of radio and symmetrical beam with no side lobes. These unique radiation properties make them excellent antennas for long links in environments with a high level of noise.
Unique Beam Without Side Lobes.
RF Elements UH-TP-5-24 UltraHorn TP antennas are truly directional antennas: signal is focused only to a main beam without any side lobes. Precise radiation patterns of UltraHornTM TP antennas allow you to create long links in high noise environment with unprecedented performance. The optimal beam-width makes aiming very simple compared to other point-to-point antennas.
Ultimate Noise Rejection:
UltraHorn TP antennas do not have side lobes which allows them to reject noise. Side radiation is directly related to noise: radios transmit and also receive interference from unwanted directions. Side lobes from most mainstream point-to-point antennas are huge, sometimes almost half the size of the main lobe and thus having a huge impact on overall performance. UltraHornTM TP antennas receive significantly less noise allowing them to achieve amazing performance in noisy environments.
Technical data:
Antenna Connection TwistPort™ - Quick Locking Waveguide Port
Antenna Type Horn
Materials UV Resistant ABS Plastic, Polycarbonate,
Polypropylene, Aluminium, Stainless Steel
Environmental IP55
Pole Mounting Diameter 30-80 mm
Temperature -30°C to +55°C (-22°F to +131°F)
Wind Survival 160 km/hour
Wind Loading 210 N at 160 km/hour
Mechanical Tilt ± 25°
Weight 8.2 Kg / 18 lbs – single unit
9.2 Kg / 20 lbs – single unit incl. package
Single Unit Retail Box: 55.0 x 55.0 x 66.6 cm
Performance:
Gain 24 dBi
Azimuth Beam Width -3 dB H 11° / V 11°
Elevation Beam Width -3 dB H 11° / V 11°
Azimuth Beam Width -6 dB H 16° / V 15°
Elevation Beam Width -6 dB H 15° / V 16°
Front-to-Back Ratio 40 dB