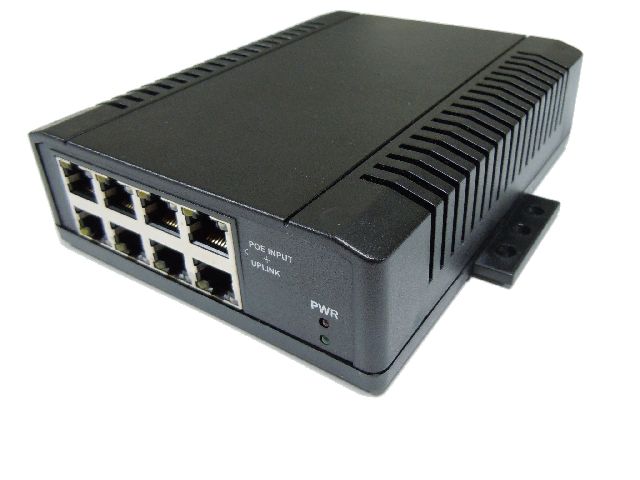 Tycon Power TP-SW8-NC 8 Port 10/100 Univolt POE Switch
---
---
Share this product:
Tycon Power TP-SW8-NC 8 Port 10/100 Univolt POE Switch  
8 Port 12V-57V non-compliant PoE Switch (no power supply included).
The TP-SW8-NC Power Over Ethernet (PoE) 10/100Mb switch offered by Tycon Power Systems is a fully automatic high speed 8 port Ethernet switch with up to 2A of PoE power per port. The -NC version is a non compliant model for devices which are not 802.3af compliant. On the -NC version the PoE output voltage = the input voltage so it is universal in its application. The DC input power range can be from 12V to 57V. The units can also be powered over POE to Port 8. Both models supply power to the remote device on the unused Ethernet pins 4,5(V+) and 7,8(V-). The Ethernet spec supports distances up to 100m (328 feet) between the PoE switch and the remote device.
18V, 24V and 48V 150W power supplies are available. There are 2 power inputs for attachment of primary and backup power sources.
All the Switches have DIN Rail mounts included for convenient DIN rail mounting.
Features:
High Power 10/100Mb Passive PoE 8 Port Switch
Remotely Power Equipment thru CAT5 Cable up to 100m
Extend Ethernet and POE up to 200m
Up to 2A per Port
Automatic MDI/MDI-X Crossover
Automatic Speed and Duplex Sensing
2K Self Learning MAC Address Table
Compact Size
High Temperature Operation
Applications:
Wireless Access Points and Client Devices
IP Phone and Security Camera Systems
Power multiple devices from 1 data cable