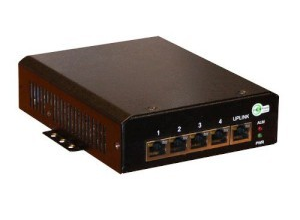 Tycon Power TP-SW5G-24HP IEEE802.3af PoE 12-36VDC High Power 35W per Port
---

Tycon Power Systems designs and manufactures turnkey remote power systems utilizing solar and wind power and accessories including a variety of unique PoE and power conversion products. Tycon Power® products include; industrial strength outdoor PoE switches, midspan power inserters, PoE surge protection, DC to DC converters, and a large selection of accessories.
---
Share this product:
Tycon Power TP-SW5G-24 IEEE802.3af POE, accepts 10-36VDC 35W
The TP-SW5G-24 Power Over Ethernet (POE) 10/100/1000Mb switch offered by Tycon Power Systems is a fully automatic high speed 5 port Ethernet switch with up to 35 Watts of POE power per port. It complies with the IEEE802.3af/at specifications for valid POE device detection. 
The TP-SW5G-24 unit supplies power to the remote device on the unused Ethernet pins 4,5(V+) and 7,8(V-). The Ethernet spec supports distances up to 100m (328 feet) between the POE switch and the remote device.
The switch accepts DC power from 12-36VDC which makes it an excellent choice for those systems powered by battery power. There are 2 power inputs for attachment of primary and backup power sources. It also accepts 802.3af or 802.3at power thru port 5.
Features: 
IEEE 802.3af/at High Power 10/100/1000Mb POE Switch
Remotely Power Equipment thru CAT5 Cable up to 100m
Up to 35W per Port
Automatic MDI/MDI-X Crossover
Automatic Speed and Duplex Sensing
1K Self Learning MAC Address Table
Compact Size 
Includes DIN rail mounting kit
Dimensions: 159mm x 116mm x 40mm 
Weight: 1.2kg