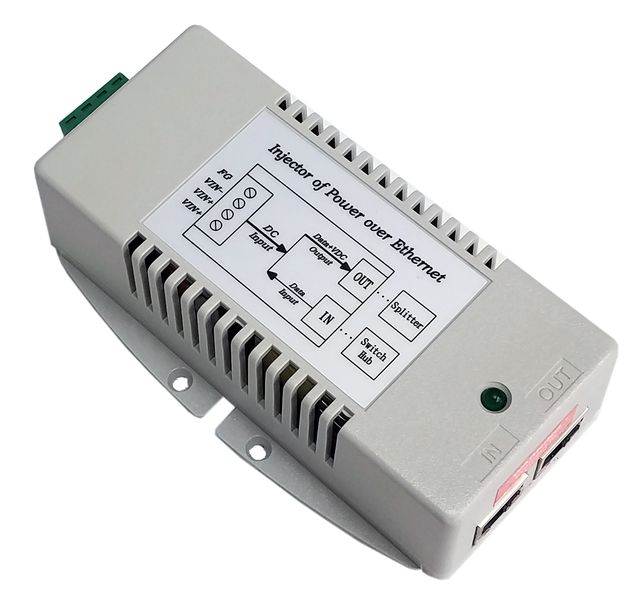 Tycon Power TP-DCDC-1224-HP 10-15VDC In, 24VDC Passive PoE Out, 35W
---

Tycon Power Systems designs and manufactures turnkey remote power systems utilizing solar and wind power and accessories including a variety of unique PoE and power conversion products. Tycon Power® products include; industrial strength outdoor PoE switches, midspan power inserters, PoE surge protection, DC to DC converters, and a large selection of accessories.
---
Share this product:
Tycon Power TP-DCDC-1224-HP 10-15VDC In, 24VDC Passive PoE Out, 35W
 Features:
Input Voltage 12VDC or 24VDC or 48VDC
IEEE 802.3af/at Compliant or Passive PoE Output
Dual Inputs for Connecting 2 Power Sources
Integrated 10/100/1000MB PoE Inserter
High Power up to 35W
Low Self Consumption Power
Short Circuit, Over Current and Reverse/Over Voltage Protect
High Temperature OperationCompact Size – Maximize Available Space
Applications:
12V / 24V / 48V Battery Systems, Vehicle Applications
Wireless Access Points and Client Devices
IP Phone and Security Camera Systems
+/- 10-15VDC IN, 24VDC OUT 30W High Power DC to DC Converter/PoE inserter. 10/100Mb.
The TP-DCDC-1224-HP DC to DC converters offered by Tycon Power Systems are a low cost and high reliability solution for those requiring 24VDC Power Over Ethernet voltage from a +/-12V battery system.
They have an integrated 10/100Mb Passive PoE injector to apply the regulated 24VDC to the CAT5 Ethernet cable. The input voltage must be between 10VDC and 15VDC.
They accept data-in to a shielded RJ45 Jack and provide data-out and PoE power on the shielded RJ45 output jack.They work by supplying power on the unused Ethernet pins 4,5(V+) and 7,8(V-).
They have various protections for surge, short circuit and overload. The units have power output of 30W.
Dimensions: 85 x 76 x 36mm (3.4 x 3 x 1.4in)Weight: 134g (4.7oz)