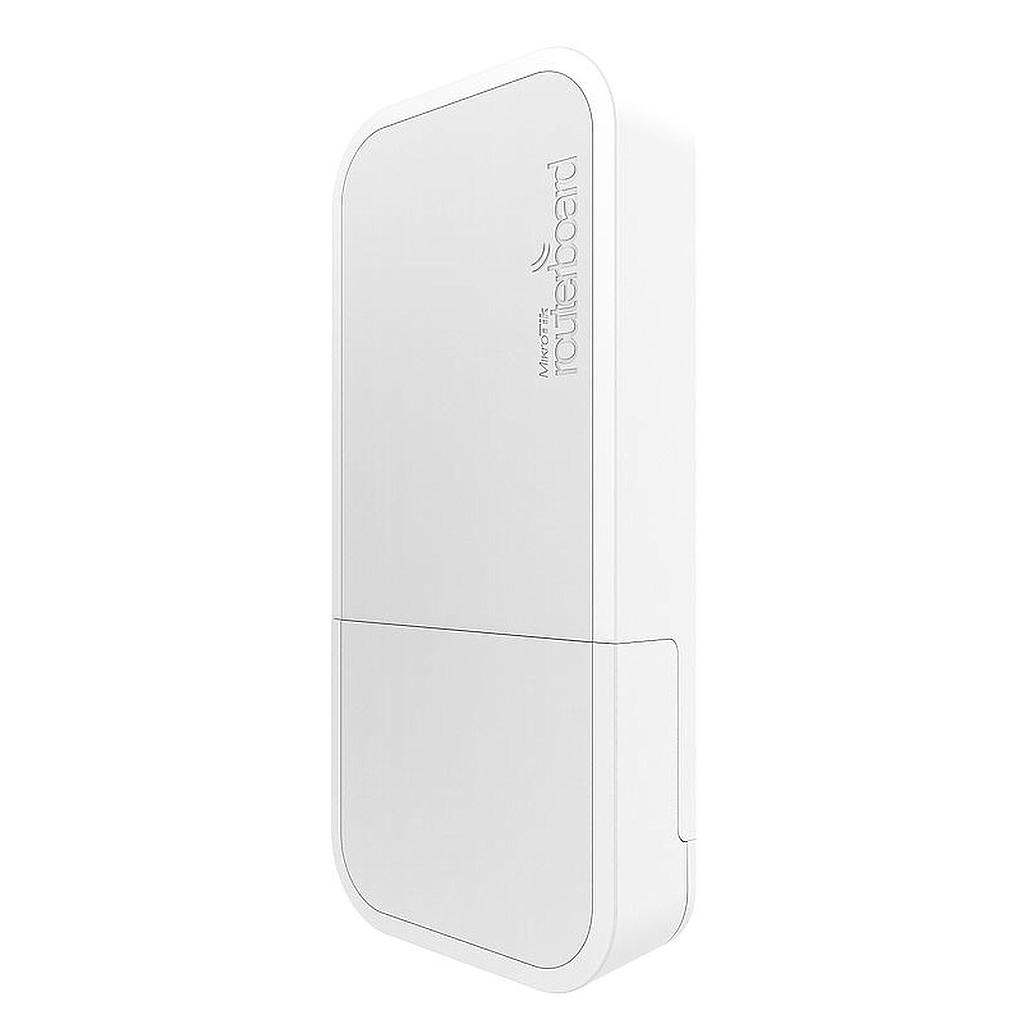 MikroTik RBwAPR-2nD&R11e-LoRa9 2.4GHz wAP w/ 902-928MHz LoRaWAN Kit
---

MikroTik provides hardware and software for Internet connectivity. Our experience in using industry standard PC hardware and complete routing systems allowed us in 1997 to create the RouterOS software system that provides extensive stability, controls, and flexibility for all kinds of data interfaces and routing.
---
Share this product:
MikroTik RBwAPR-2nD&R11e-LoRa9 2.4GHz wAP w/ 902-928MHz LoRaWAN Kit
wAP LR9 kit – an out-of-the-box solution to use LoRa® technology. This kit contains a pre-installed UDP packet forwarder to any public or private LoRa® servers and an outdoor weatherproof wireless access point with 2.4 GHz WLAN interface and Ethernet port that could be used as a backend.
This particular wAP form-factor has been tested in many other MikroTik products – it can deliver excellent and stable performance in almost any weather conditions.
You can use the optional internal 2 dBi antenna or attach an external antenna. For extra network coverage we suggest adding MikroTik Antenna kit for LoRa®.
Operates in 902-928 MHz frequency (used in United States, Canada, Mexico, Australia, Brazil, many countries in Asia etc.)
Functional and non-intrusive design, astonishing durability and great value – that is the wAP LR9 kit, the long-awaited solution for LoRa® technology for enthusiasts of any level.
Specifications:
Product code: RBwAPR-2nD&R11e-LR9
Architecture: MIPSBE
CPU: QCA9531
CPU core count: 1
CPU nominal frequency: 650 MHz
RouterOS licence: 4
Operating System: RouterOS
Size of RAM: 64 MB
Storage size: 16 MB
Storage type: FLASH
MTBF: Approximately 100'000 hours at 25C
Tested ambient temperature: -40°C to 60°C
Powering:
Number of DC inputs: 3 (DC jack, PoE-IN, Automotive)
DC jack input Voltage: 9-30 V
Automotive input Voltage: 9-30 V
Max power consumption: 7 W
Cooling type: Passive
PoE in: Passive PoE
PoE in input Voltage: 9-30 V
Wireless specifications:
Wireless 2.4 GHz Max data rate: 300 Mbit/s
Wireless 2.4 GHz number of chains: 2
Wireless 2.4 GHz standards: 802.11b/g/n
Antenna gain dBi for 2.4 GHz: 2
Wireless 2.4 GHz chip model: QCA9531
Wireless 2.4 GHz generation: Wi-Fi 4
Ethernet: 
10/100 Ethernet ports: 1
Peripherals:
Number of SIM slots: 1 Modem (Mini SIM)
MiniPCI-e slots: 1
Other:
PCB temperature monitor: Yes
Voltage Monitor: Yes
Certification & Approvals:
Certification: FCC, IC, EAC
IP: IP54
Wireless specifications:
2.4 GHz
     Transmit (dBm)
Receive Sensitivity
1MBit/s
               22
                       -96
11MBit/s
       22
                       -89
6MBit/s
               20
                       -93
54MBit/s
       18
                       -74
MCS0
               20
                       -93
MCS7
               16 
                       -71