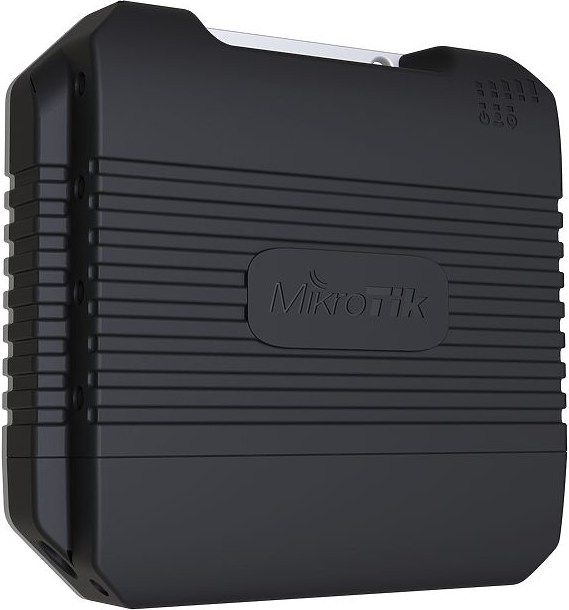 MikroTik RBLtAP-2HnD+R11e-LTE LtAP LTE Kit 3 Sim Card Heavy-duty LTE AP with GPS
---

MikroTik provides hardware and software for Internet connectivity. Our experience in using industry standard PC hardware and complete routing systems allowed us in 1997 to create the RouterOS software system that provides extensive stability, controls, and flexibility for all kinds of data interfaces and routing.
---
Share this product:
** This unit may be set to USB Port LTE Interface by default, if you don't see "LTE" in the interfaces list upon powering up the device, please run this command in terminal: 
/system routerboard usb set type=mini-PCIe
MikroTik RBLtAP-2HnD+R11e-LTE LtAP LTE Kit 3 Sim Card Heavy-duty LTE AP with GPS

The new LtAP LTE kit is a compact 4G (LTE) capable weatherproof wireless access point – perfect for busy urban environment or off-the-grid outdoors networking.
It has a built-in cellular modem that supports 4G (LTE) connectivity – no need for additional devices, it works out of the box.
Specifications:
| | |
| --- | --- |
| Details | |
| Product code | RBLtAP-2HnD&R11e-LTE |
| Architecture | MMIPS |
| CPU | MT7621A |
| CPU core count | 2 |
| CPU nominal frequency | 880 MHz |
| CPU Threads count | 4 |
| License level | 4 |
| Operating System | |
| Size of RAM | 128 MB |
| Storage size | 16 MB |
| Storage type | FLASH |
| Tested ambient temperature | -40°C to 70°C |
Powering:
| | |
| --- | --- |
| Details | |
| PoE in | Passive PoE |
| PoE in input Voltage | 12-30 V |
| Number of DC inputs | 3 (DC jack, PoE-IN, Automotive) |
| DC jack input Voltage | 12-30 V |
| Automotive input Voltage | 12-30 V |
| Max power consumption | 24 W |
| Max power consumption without attachments | 12 W |
Mobile:
| | |
| --- | --- |
| Details | |
| 2G Category | Class12 |
| 3G Category | R7 (21Mbps Downlinks, 5.76Mbps Uplink) |
| LTE Category | 4 (150Mbps Downlink, 50Mbps Uplink) |
| LTE FDD bands | 1 (2100MHz) / 2 (1900MHz) / 3 (1800MHz) / 7 (2600MHz) / 8 (900 MHz) / 20 (800MHz) |
| LTE TDD bands | 38 (2600MHz) / 40 (2300MHz) |
| 2G bands | 2 (1900MHz) / 3 (1800MHz) / 5 (850MHz) / 8 (900MHz) |
| 3G bands | 1 (2100MHz) / 2 (1900MHz) / 5 (850MHz) / 8 (900MHz) |
Wireless:
| | |
| --- | --- |
| Details | |
| Antenna gain dBi for 2.4 GHz | 2.5 |
| Wireless 2.4 GHz standards | 802.11b/g/n |
| Wireless 2.4 GHz Max data rate | 300 Mbit/s |
| Wireless 2.4 GHz number of chains | 2 |
| Wireless 2.4 GHz chip model | AR9382 |
| Wi-Fi generation | 4 |
Ethernet:
| | |
| --- | --- |
| Details | |
| 10/100/1000 Ethernet ports | 1 |
Peripherals:
| | |
| --- | --- |
| Details | |
| Number of SIM slots | 3 Modem (Mini SIM) |
| MiniPCI-e slots | 2 |
| Serial port | RS232 |
| Number of USB ports | 1 |
| USB Power Reset | Yes |
| USB slot type | USB type A |
| Max USB current (A) | 1 |
Other:
| | |
| --- | --- |
| Details | |
| PCB temperature monitor | Yes |
| Voltage Monitor | Yes |
Wireless specifications:
| | | |
| --- | --- | --- |
| 2.4 GHz | Transmit (dBm) | Receive Sensitivity |
| 1MBit/s | 25 | -100 |
| 11MBit/s | 25 | -94 |
| 6MBit/s | 26 | -96 |
| 54MBit/s | 23 | -78 |
| MCS0 | 26 | -96 |
| MCS7 | 22 | -73 |