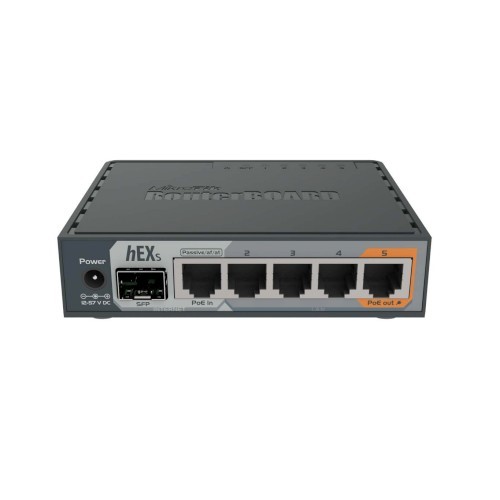 MikroTik RB760iGS hEX S 880MHz Dual Core 256MB 5xGb PoE L4
---

MikroTik provides hardware and software for Internet connectivity. Our experience in using industry standard PC hardware and complete routing systems allowed us in 1997 to create the RouterOS software system that provides extensive stability, controls, and flexibility for all kinds of data interfaces and routing.
---
Share this product:
MikroTik RB760iGS hEX S 880MHz Dual Core 256MB 5xGb PoE L4

MikroTik hEX S 5x Gigabit Ethernet, SFP, Dual Core 880MHz CPU, 256MB RAM, USB, microSD, RouterOS L4, support for IPsec hardware encryption and The Dude server packagehEX S is a five port Gigabit Ethernet router for locations where wireless connectivity is not required. Compared to the hEX, the hEX S also features an SFP port and PoE output on the last port.
It is affordable, small and easy to use, but at the same time comes with a very powerful dual core 880 MHz CPU and 256 MB RAM, capable of all the advanced configurations that RouterOS supports. The device has a USB 2.0, PoE output for Ethernet port #5 and a 1.25Gbit/s SFP cage.
IPsec hardware encryption (~470 Mbps) and The Dude server package is supported, microSD slot on it provides improved r/w speed for file storage and Dude.


Specifications:
| | |
| --- | --- |
| Details | |
| Product code | RB760iGS |
| Architecture | MMIPS |
| CPU | MT7621A |
| CPU core count | 2 |
| CPU nominal frequency | 880 MHz |
| CPU Threads count | 4 |
| Dimensions | 113 x 89 x 28 mm |
| License level | 4 |
| Operating System | RouterOS |
| Size of RAM | 256 MB |
| Storage size | 16 MB |
| Storage type | FLASH |
| Tested ambient temperature | -40°C .. +70°C |
Powering:
| | |
| --- | --- |
| Details | |
| Max Power consumption | 11W |
| PoE in | 802.3af/at |
| PoE out | Passive PoE up to 57V |
| PoE in input Voltage | 12-57 V |
| Number of DC inputs | 2 (DC jack, PoE-IN) |
| DC jack input Voltage | 12-57 V |
Ethernet:
| | |
| --- | --- |
| Details | |
| 10/100/1000 Ethernet ports | 5 |
Fibre:
Peripherals:
| | |
| --- | --- |
| Details | |
| Number of USB ports | 1 |
| USB Power Reset | Yes |
| USB slot type | USB type A |
| Max USB current (A) | 1 |
Other:
| | |
| --- | --- |
| Details | |
| PCB temperature monitor | Yes |
| Voltage Monitor | Yes |