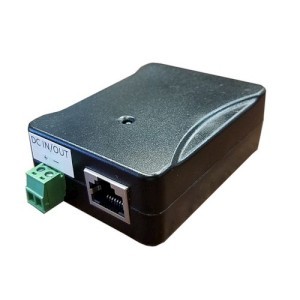 Tycon Power Systems POE-INJ-1000-WTx Gigabit PoE Injector/Splitter 4 Pair
---

Tycon Power Systems designs and manufactures turnkey remote power systems utilizing solar and wind power and accessories including a variety of unique PoE and power conversion products. Tycon Power® products include; industrial strength outdoor PoE switches, midspan power inserters, PoE surge protection, DC to DC converters, and a large selection of accessories.
---
Share this product:
Tycon Power Systems POE-INJ-1000-WTx Gigabit PoE Injector/Splitter 4 Pair
Tycon Gigabit Passive PoE Injector/Splitter with LED Indicator. Injects or splits DC Power on all 8 wires. 1278(-) 3645(+). Wire terminal connector. 2.25A. VIN=VOUT Part Number: POE-INJ-1000-WTx
Features
• High Power Shielded Design (uses all 4 pairs)

• 10/100/1000Mb Compatible

• Removeable Wire Terminal Connector

• 5VDC to 58VDC Power over Ethernet

• Power On LED indicator

• I.T.E. Power Supply, UL Listed
Applications
• Wireless Equipment

• Ubiquiti airFiber Antennas

• Security Applications

• HD PTZ Cameras
The POE-INJ-1000-WT(x) are shielded passive power over Ethernet Inserters and Splitters that are compatible with data speeds up to 1 gigabit. The DC connector is a removeable wire terminal type power connector. The RJ45 connectors are shielded to ensure continuous shielding from power source to destination device. Power is supplied on all 8 Ethernet pins (4 Pair) This allows for transport of up to 130W over a single CAT5/6 wire up to 100m.