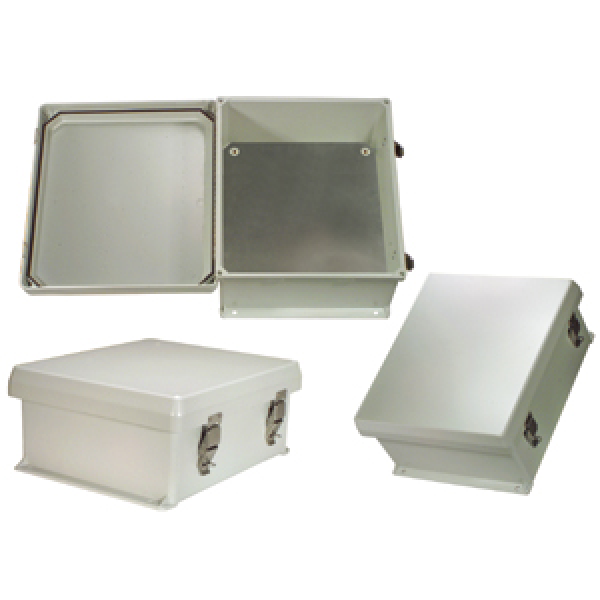 Hana Wireless HW2-N14 FRP NEMA 350x300x175mm Plain Box
---

Hana Wireless provides quality components for both the indoor and outdoor wired and wireless broadband solutions. Product categories include: antennas, enclosures, unique custom kits, mounts, adapters, power supplies and pre-made jumper cables. Hana Wireless is dedicated to having the right choice of parts that can make a real difference in the outcome of your wireless broadband communications project. Products are designed to meet the standards comparable to those of other major manufactures and used across the globe at a more down-to-earth price point.
---
Share this product:
Hana Wireless HW-N14 FRP NEMA 350x300x175mm

The Hana Wireless HW-N12 enclosure is a rugged, larger sized 350x300x175mm  weatherproof enclosure that is ideal for both indoor and outdoor applications. Constructed from molded fiberglass, it is well suited for high temperature or corrosive environments. The mounting flange allows it to be wall mounted as well as on a flat surface. The box can also be pole mounted with the optional pole mounting hardware kit. The fully gasketed lid features a stainless steel continuous hinge and stainless steel quick release latches with padlock hasps. The enclosure material is UV stabilized and comes in machine tool gray.
The HW-N14 is ideal for custom applications, which may require special modifications to the enclosure. Mounting stand-offs inside the enclosure can be used for mounting pla
Hana Wireless HW-N14 now comes with the UL® Listing Mark in every enclosure. Ideal for all constructions sites and equipment enclosure applications.
Molded Fiberglass Reinforced Polyester (FRP) industrial Enclosure

Stainless steel quick release latches with padlock hasps

Fully gasketed