AirConsole L Pro 2.0 Single GCAC2-P-1 Serial adaptor 3500mAH battery, WIFI and Bluetooth Low Energy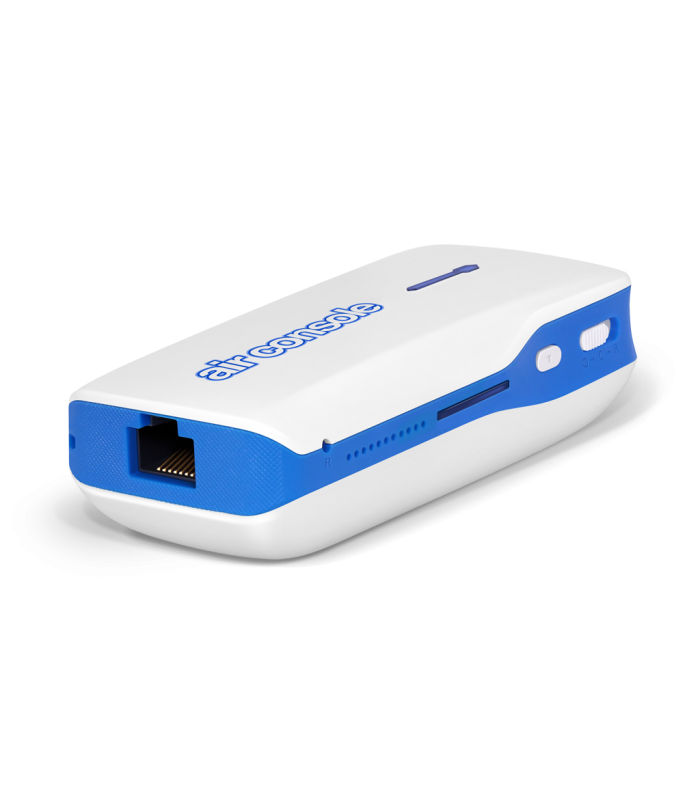 AirConsole L Pro 2.0 Single GCAC2-P-1 Serial adaptor 3500mAH battery, WIFI and Bluetooth Low Energy
---
---
Share this product:
Airconsole L Pro replaces the original Airconsole Pro. The unit is the same except features a longer lasting battery and comes in a slightly larger form factor similar to the Airconsole XL.
Airconsole L Pro 2.0 has many features:
Access Serial Ports over Wifi
Airconsole allows for easy wireless access to wired RS232 serial ports via a transparent standards based serial-over-wifi protocol. Full RS232 connectivity is supported including baud rates to 9.6k - 230k, 7/8 Data Bits, Odd/Even/No Parity, 1/2 stop bits, CTS/RTS and DSR/DTR hardware flow control. When used with Get Console, or via our supplied drivers it appears as a directly connected serial port to the terminal application.
Access Serial Ports over Bluetooth 4 (BLE or 2.1 EDR)
Airconsole also allows for access to wired RS232 serial ports via Bluetooth Low Energy or Bluetooth 2.1 EDR (depending on client device). BLE Serial connectivity is supported on iOS and OSX platforms at baud rates from 1200 to 57600. Serial over Bluetooth 2.1EDR  is supported on Windows and Android (using our free SerialBot app) at baud rates upto 115200. All standard RS232 settings such as 7/8 Data Bits, Odd/Even/No Parity, 1/2 stop bits, CTS/RTS and DSR/DTR hardware flow control are supported. 
Quick and Easy Auto Setup for Mobile Serial Communications
Airconsole is designed to work seamlessly with our iOS or Android applications (Get Console, RapidSSH or SerialBot). Just enable bluetooth, or for higher speeds simply join the Airconsole WIFI network and launch the app - the serial connections will use the Airconsole as if using a cable - Baud rates, flow control, and other serial settings are transparently applied to the adaptors serial port immediately on connection.
Full RS232 connectivity
Full flow control, baud rates upto 115200, all pins connected and controllable via the Get Console application. Airconsole puts out true RS232 (+/-5v) voltage levels. The supplied RJ45 cable can easily be adapted to DB9, DB25 or DEX presentation via dongles available here in this webshop.
Bridge Wireless to Wired Ethernet
Airconsole also functions as a wired to wireless Ethernet bridge, meaning your iPad, iPhone, Android, Mac or PC can connect to the wired LAN transparently. When used with Get Console it therefore means equipment that is accessed via an Ethernet rather than Serial console port can be simultaneously controlled. For example, use Get Console's built in TFTP server to upload new files to a devices Ethernet management port while controlling it from its Serial console port.
Cloud Connected
Airconsole has built in support for sharing its serial port with remote web users via the cloud. Using our low cost Get Console Private Server (licenses included in Pro/XL kits), Aggregate many remote serial devices into an always-on cloud based serial terminal server - a single web interface can provide remote console access to any and all manner of industrial, networking, home automation equipment via their RS232 management ports.
Integrated Long-Life Battery, and easy USB charging.
Airconsole XL Pro has a built in 3500Wh Lithum Ion battery which lasts for around 7 hours of continuous use. However switched off, the battery holds usable charge for at least 14 days, meaning its ready to work when you need it. In addition, the seperate micro-USB charging port can also allow for external power operation using the supplied micro-USB charging cable - simply find a spare USB port in the datacentre and power up. Full charging takes just 45 minutes.
Fully Customizable and Secure 
Airconsole has a built in webpage for changing the default configuration - allowing for encrypted or open wifi, enabling routing, running with static rather than DHCP dynamic IP addressing and upgrading the firmware to the latest features.
Many Other Advanced Features
Machine-to-Machine mode: Connect serial devices back to back over an IP WAN using 2 Airconsole units

AP Client: Airconsole can join existing WIFI networks while concurrently operating its own WIFI network, and route between them (with or without NAT)

Full IOS and Websockets SDK: Developers can build RS232 serial support into their own applications quickly and easily with our

Built in web based terminal: no terminal app? no problem - access serial console ports from any modern web browser directly
Package Contents:
1 x Airconsole XL Pro Adaptor

1 x Integrated USB hub cable (1 male, 1 female port) to RJ45 Serial Cable (0.3m)

1 x Airconsole Bluetooth 4.0 Dongle

1 x Micro USB Charging Cable

1 x RJ45-DB9 Standard adaptor

1 x RJ45-DB9 Null Adaptor

2 x UDID Private Server Licenses

1 x Quickstart Guide
Technical Specification
Serial  
Serial Baud rates (using either WIFI or BT 2.1 EDR) from 1200 through 115200 (upto 230k supported in Mac/PC)  
Serial Baud rates (using BLE) from 1200 through 57600. While 57600 baud is supported on serial side, the BLE radio limits actual throughput to 17Kbps (iOS) and packet buffering or possibly overflow may occur during sustained transfers over BLE. If sustained rates at 38400 or higher baud is required, switch to WIFI.
Hardware Flow Control (RTS/CTS or DSR/DTR)  
Standard Serial over RJ45 pinout (for direct connection to Cisco console ports)
Ethernet
802.11N Wireless at upto 150Mbps  
10/100 Ethernet with Auto-MDIX
Battery
3500Wh LIon Battery   
14 days standby  
Upto 4 hours operation from full battery
*Support Information
Get Console directly supports Airconsole use with our Applications (Get Console, RapidSSH and Private Server). The adaptor also comes with a comprehensive manual. While we have (or will) publish support articles on example use with other Terminal applications in our forum, for support when these other applications, including those on OSX or Windows, please refer to the system documentation for those applications.