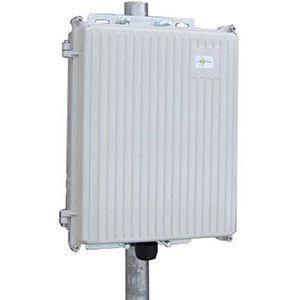 Tycon Power Systems ENC-DC-10x8x3 Outdoor Die Cast Enclosure 250x200x75mm
---

Tycon Power Systems designs and manufactures turnkey remote power systems utilizing solar and wind power and accessories including a variety of unique PoE and power conversion products. Tycon Power® products include; industrial strength outdoor PoE switches, midspan power inserters, PoE surge protection, DC to DC converters, and a large selection of accessories.
---
Share this product:
Tycon Power Systems ENC-DC-10x8x3 Outdoor Die Cast Enclosure 250x200x75mm


Product Code: ENC-DC-10x8x3
Tycon Power ENC-SW-8x5 Outdoor Enclosure for TP-SW 5, 8 port and Netonix WS-6-Mini POE switches
The TPENC series outdoor enclosures are designed for applications that require a sturdy, weatherproof enclosure to house various electronics. They have gasket seals and are made from UV resistant materials for long service life. They can be wall or pole mounted. The TPENC-PL enclosure has a lockable closure to prevent unauthorized access.
Features include a hinged cover for easy access and weatherproof feedthru's for cables and wiring. The TPENC-DC comes with an RJ45 feedthru which allows passing of an RJ45 connector to make the entire enclosure field replaceable. It also has a cutout for an N Bulkhead connector for attaching external antennas. The TPENC-PL has 3 weatherproof universal cable feedthru's.
The enclosure has many uses besides housing Tycon switches. It can also be used for holding modems, PoE inserters, power supplies, surge protectors, etc.
Details:
For TP-SW series of POE switches

Useful for other electronics such as PoE inserters, modems, surge protectors, etc.

Feed-thru's for up to 12 CAT5/6/Power cables

Weatherproof / UV Resistant

Mounts to wall or pole