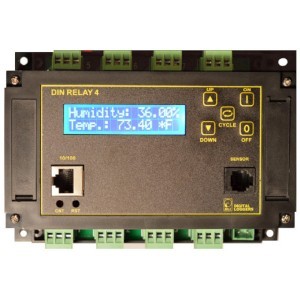 Digital Loggers DIN4 Web Controlled DIN Relay
---

Digital Loggers, Inc. manufactures reliable, cost effective recording systems and switches for government and commercial applications. DLI operates a 21,000 square foot manufacturing facility in Santa Clara, California. We have serviced 18,000 customers in over 19 years of business.
---
Share this product:
Digital Loggers DIN4 Web Controlled DIN Relay
KEY FEATURES:
(8) Individual T-90 SPDT Relays

Ping Watchdog via Ethernet Port

Programmable using BASIC scripts

Schedule or Instantly Reboot / Restart

Remotely Manage Devices
New Features: HTTPS Web, SNMP, Echo, Wi-Fi AP Access, SSH, RestAPI and more! See Spec Sheet for additional details.
WEB CONTROLLED DIN RELAY IV
Instantly reboot, start or stop equipment in remote locations. Control industrial machinery or process equipment securely from your web browser or via program control. Simplify wiring with a single Ethernet connection. Eliminate complex wiring, PLCs, PC servers and control cards. Control one or hundreds of Ethernet relays from a single script. Access via web browser from anywhere. Up to eight simultaneous ethernet connections are supported by the internal web server in each relay.
Eliminate overloads, brown-outs, blown breakers and other power problems before they occur. Start devices in sequence automatically. Balance power phasing and load factors to conserve energy. Eight individually controlled heavy duty T-90 SPDT relays give you flexibility for almost any industrial application.
Command your DIN relay using a friendly web interface, via a program or via the command line. Change the user-defined graphics and hyperlinks to customize the web pages. Programmable web links give you a seamless control panel tied to all the DIN relays in your enterprise. Depend on highly secure encrypted logins.
Use the "Auto-Ping" feature to automatically monitor critical network devices, such as telecom equipment, servers and routers. If a device goes down, the power controller will automatically reboot it with no user intervention. "Locked-up" devices are brought back to life instantly. Service calls are eliminated.
New Features in Version I:
DC Input voltage rating increased to 48VDC

Added audio alarm-beeper

Added 2x16 LCD display to display status and help with setup

Added internal real-time-clock with NTP and local time synch

Numerous firmware upgrades including; scheduling feature, increased AutoPing speed limit and more scripting commands

Increased relay contact rating and durability

Added keypad for local control

Updated rating, testing and specifications for higher DC input voltages

Eliminated internal RJ-45 bulkhead for more reliable connection to unshielded RJ-45 plastic plugs. Connection status displayed on LCD

Case color has changed, manual and box updated, power consumption has increased slightly