Mikrotik CubeG-5ac60aypair Cube 60Pro - a kit of two preconfigured Cube ac Wireless Wire Cube Pro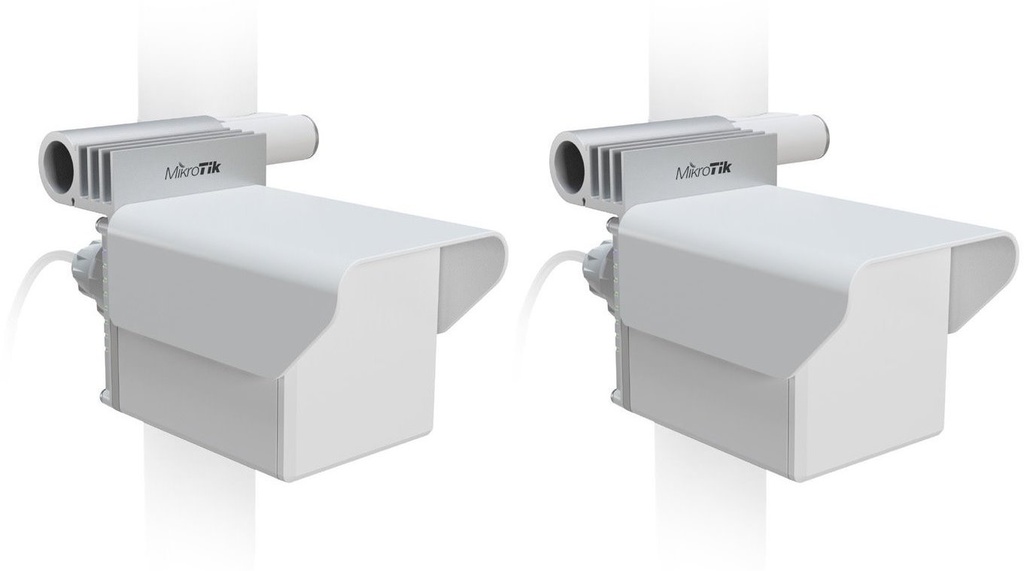 Mikrotik CubeG-5ac60aypair Cube 60Pro - a kit of two preconfigured Cube ac Wireless Wire Cube Pro
---

MikroTik provides hardware and software for Internet connectivity. Our experience in using industry standard PC hardware and complete routing systems allowed us in 1997 to create the RouterOS software system that provides extensive stability, controls, and flexibility for all kinds of data interfaces and routing.
---
Share this product:
Mikrotik CubeG-5ac60aypair Cube 60Pro - a kit of two preconfigured Cube ac Wireless Wire Cube Pro
Strong metal base for improved cooling and mounting!
Specifications

Product code CubeG-5ac60ay

CPU 4 core IPQ-4019 716 MHz

Size of RAM 256 MB

Storage 64 MB flash

Number of 1G Ethernet ports 1

Wireless 5 GHz 802.11a/n/ac

Wireless Chains 1

Antenna gain (dBi) 11.5 5 GHz

Antenna beam width 35° 5 GHz

Antenna beam width at 60 GHz  11°  

GPS MT3337V

WiGig chipset QCA6438

WiGig antenna module SWL-QD46

Supported protocol MikroTik 802.11ad / 802.11ay

Max EIRP (dBm) 40 Dimensions 115 x 95 x 82 mm (Cube G-5ac60ay)

Operating temperature -40°C to +70°C Operating system

RouterOS, License level 4