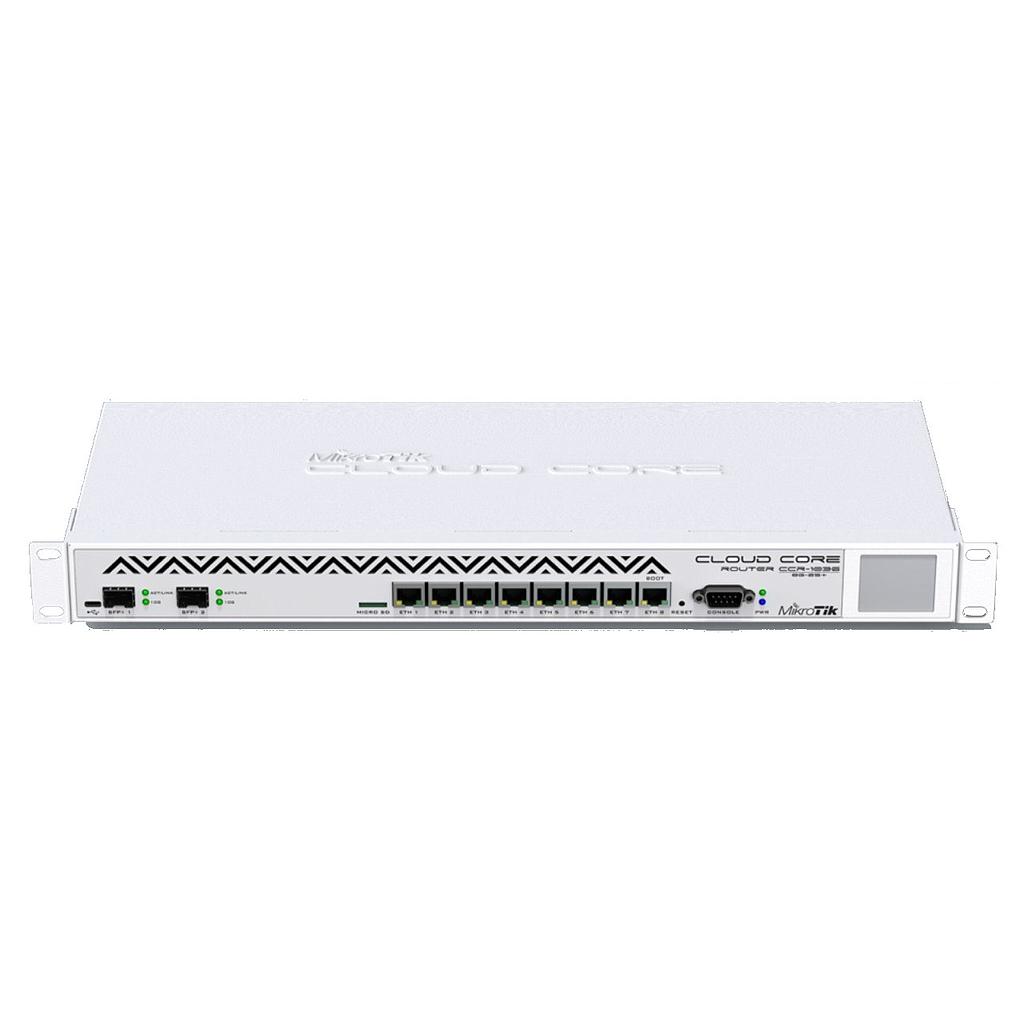 MikroTik CCR1036-8G-2S+ Cloud Core Router 1036-8G-2S+ 4GB RAM
---

MikroTik provides hardware and software for Internet connectivity. Our experience in using industry standard PC hardware and complete routing systems allowed us in 1997 to create the RouterOS software system that provides extensive stability, controls, and flexibility for all kinds of data interfaces and routing.
---
Share this product:
MikroTik CCR1036-8G-2S+ Cloud Core Router 1036-8G-2S+ 4GB RAM
1U rackmount, 8x Gigabit Ethernet, 2xSFP+ cages, LCD, 36 cores x 1.2GHz CPU, 4GB RAM, 41.5mpps fastpath, Up to 28Gbit/s throughput, RouterOS L6, Dual PSU
Our fastest router has now become even better - the new CCR1036-8G-2S+ now has two SFP+ ports for 10G interface support (SFP+ module available separately). It uses the same 36 core Tilera CPU as our other CCR1036 model, and delivers the same performance.
The device comes in a 1U rackmount case, has two SFP+ ports, eight Gigabit ethernet ports and serial console port.
The new version of CCR1036-8G-2S+ has onboard 4GB of RAM, onboard M.2 PCIe 4x slot, full size USB slot and dual PSU for redundancy!
Supports both SFP (1.25G) and SFP+ (10G) modules
Specifications:
Product code: CCR1036-8G-2S+
Architecture: TILE
CPU: TLR4-03680
CPU nominal frequency: 1.2 GHz
Dimensions: 443 x 193 x 44 mm
RouterOS licence: 6
Operating System: RouterOS
Size of RAM: 4 GB
Storage size: 1 GB
Storage type: NAND
MTBF: Approximately 200'000 hours at 25C
Tested ambient temperature: -20°C to 60°C
IPsec hardware acceleration: Yes
Powering:
Number of AC inputs: 2
AC input range: 100-240
Max power consumption: 73 W
FAN count: 2
Ethernet:
10/100/1000 Ethernet ports: 8
Fibre:
SFP DDMI: Yes
SFP+ ports: 2
Peripherals:
Memory card type: microSD
Memory Cards: 1
Serial console port: RJ45
Number of USB ports: 1
USB Power Reset: Yes
USB slot type: USB type A
Max USB current (A): 1
Other:
CPU temperature monitor: Yes
PCB temperature monitor: Yes
Voltage Monitor: Yes
Mode button: Yes
Certification & Approvals:
Certification:
CE, EAC, ROHS