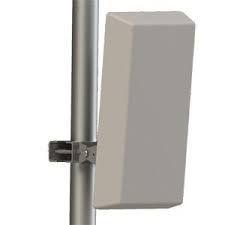 ARC Wireless ARC-VS5818SD1 ARCFlex 18-16dBi 5GHz DP Variable Sector
---

ARC Wireless Solutions, Inc. is involved in selective designing, manufacturing, marketing and selling of a broad range of wireless components and network products and accessories. The Company develops, manufactures and markets proprietary products, including Wi-Fi® and WiMAX. panel antennas, mobile GPS and cellular antennas, as well as base station antennas (for cell phone towers), through its Wireless Communications
---
Share this product:
ARC Wireless ARC-VS5818SD1 ARCFlex 18-16dBi 5GHz DP Variable Sector
HW-VS5818SD1 -ARC eXsite 5.1-5.9GHz, 60-120º Beamwidth, 18-16dBi Dual-Pol Sector
The ARC Wireless ARCFlex™ dual-polarisation variable sector ARC-VS5818SD1 antennas feature ultra wideband frequency performance, providing robust connectivity for a range of broadband radio equipment. The unique variable beamwidth capability allows for easy, single-point adjustment of horizontal beam-width (60° – 120°). Mounting brackets provided allow for easy adjustment of up/down-tilt. 
Variable Sector Antenna 4.94-5.875 GHz, 60-120° Beam-width, 18-16 dBi
Features:
- Wide range of beamwidths, 1 SKU
- Mechanical slide for easy field adjustments
- Ultra wideband frequency performance
- High gain antenna in compact package
- Low profile, rugged design for outdoor use
- US Engineered