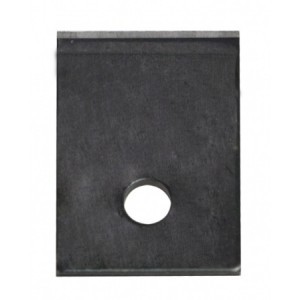 Platinum Tools 100071BL ezEX-RJ45 EXO-EX Die Replacement Blade 2 Pack
---

Platinum Tools, founded in 1997, was created based upon two very simple objectives. First, develop and source the absolute best possible solutions for the preparation, installation and hand termination of wire and cable. Second, implement an operational infrastructure that can deliver these products in an efficient, timely and high quality manner.
---
Share this product:
Platinum Tools 100071C ezEX-RJ45 EXO-EX Die EXO Crimp Frame

The patented EXO-EX Die™ is used with the EXO Crimp Frame™ to terminate ezEX-RJ45™connectors (typically used in Cat6 and Cat6A). The EXO-EX Die is interchangeable and reversible when used with EXO Crimp Frame. Designed for the new ezEX-RJ45™connectors (ezEX™44 and ezEX™48). The ezEX-RJ45™ connectors are an RJ45 pass through connector, developed for larger cables and conductors. Integrated Hi-Lo stagger for improved performance and one piece design pass through system.
Single cycle crimp and flush trim

Easily interchangeable

Reversible for ambidextrous operation

Connectors lock into tool for correct positioning during crimp

Compatible with ezEX™44 and ezEX™48 connectors

Terminates larger cables and conductors Cat6 and Cat6A